Unidad de Polarización CASPOL
El CASPOL fue construido en el CASLEO con financiamiento propio y su diseño es similar al IAGPOL (Magalhaes et al. 1996, ASP Conf. Series 97, 118), o al polarímetro del telescopio de 2.2 m de la Universidad de Hawaii (Masiero et al. 2007, PASP 119, 1126). Para una caracterización del instrumento y una evaluación de su polarización instrumental, ver: Sosa et al. (2019, JATIS, 5(2), 028002).
Descripción técnica
El CASPOL consiste en una unidad que se instala delante de un detector CCD y que contiene un obturador mecánico, una rueda de filtros (V, B, R, libre, I, en ese orden), una regleta de filtros neutros, una lámina retardadora, y una placa de Savart. La lámina retardadora puede rotar en pasos de 22.5°, y la placa de Savart produce dos imágenes polarizadas ortogonalmente separadas 0.9 mm (10.2 arcsec en el cielo). Tanto la retardadora como el Savart poseen coating antireflectante para el rango 400-800 nm.
El software de control permite operar todas las piezas móviles y adquirir imágenes (ver Fig. 1 y 2).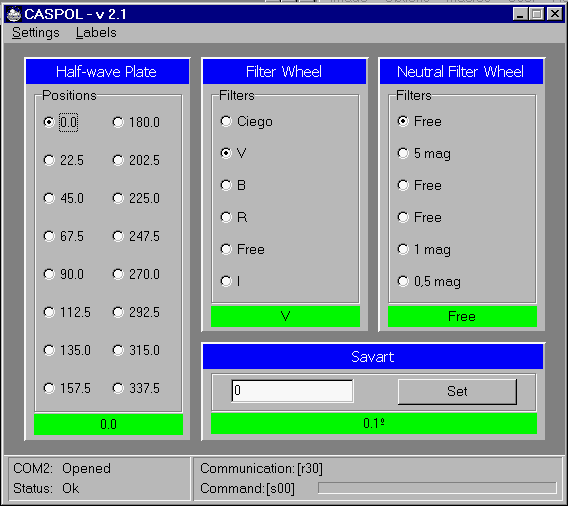 Para reducir datos del CASPOL está disponible el paquete IRAF CASLEO (por requerimiento a <turnos-arroba-casleo.gov.ar>). La última versión es de febrero de 2015 (ver instructivo).
El detector en uso con el espectrógrafo REOSC es un CCD de 1024 × 1024 pixeles². El chip es adelgazado (thinned) sin recubrimiento (coating), y es iluminado por detrás. Las características principales del chip se indican a continuación:
Campo y escala
El campo útil está limitado a un círculo de 90 arcsec de diámetro. El CCD en uso produce una escala de 0.27 arcsec/pix (binning 1x1).
Los filtros del CASPOL son:
U = UG2 + BG38 (no disponible por el momento)
B = 2 mm BG12 + 2 mm GG385
V = 3 mm BG18 + 3 mm GG495 + 3 mm BG18
R = 2 mm OG550 + 3 mm KG1 + 1 mm RG6
I = 1 mm RG780 + 3 mm RG715
Los sumandos son placas separadas y sí importa el orden en el que se las coloca: La luz que ingresa al instrumento desde el objeto, primero hace contacto con el último sumando.
Las letras de la nomenclatura, responden a uno de los siguientes grupos:
UG: Black and blue glasses, UV transmitting.
BG: Blue, blue-green, and multi-band glasses.
VG: Green glass.
GG: Virtually colorless to yellow glasses, IR transmitting.
OG: Orange glasses, IR transmitting.
RG: Red and black glasses, IR transmitting.
NG: Neutral density glasses with uniform attenuation in the visible range.
N-WG: Colorless glasses with different cutoffs in the UV spectrum, transmitting in the visible range and the IR.
KG: Virtually colorless glasses with high transmission in the visible and effective absorption in the IR (heat protection filters).
---